As part of Unite's "One Planet Project," I'm writing a book, One Planet,  which is the story of how humanity is uniting, even in these divisive times. A complementary piece of the Project is a film with the same title, One Planet, which is a short film, eight minutes, to be used in classrooms in all countries. Missy Lahren, Unite's Producer/Writer, who has made a successful feature length film, is guiding the film. It opens students to shared values attainable through a new perspective realizing the unity and interdependence of all life on Earth.
It's my second book. My first was 2048: Humanity's Agreement to Live Together. It was a best seller in the San Francisco Bay Area for four weeks back in 2010. 2048 laid out the foundation for a plan for humanity to transition from war and want to peace and prosperity.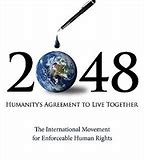 I didn't write the plan. The plan is embodied in the Universal Declaration of Human Rights. As far as I can tell from my studies of the microfiche files for the drafting of the Universal Declaration, the principal authors for substance are John Humphrey,  and Rene Cassin. Yes, Eleanor Roosevelt, Charles Malick and P.C. Chang were responsible for much of the steerage, along with others, but Humphrey and Cassin did the most research and writing, primarily Humphrey – it's fitting that he's a hero in Canada.
The book I'm writing now, One Planet, is about how we can build upon the foundation described in 2048. One Planet is about the perspective needed to do the building. Most of us see myopically because we are taught from infancy that we have a particular nationality, and often a particular religion as well. Of course there is nothing wrong with separate identities, and our diversity is one of our greatest strengths and attractions even though our DNA is 98.5% the same.
Where caution is needed is that brutes often use nationalistic fervor to stoke fear and divisiveness to empower themselves – it's an old trick of the power hungry to pit people against each other. This is why humans now spend over 1 trillion dollars each year preparing for and waging war. Fortunately, since we've gone to space we've gained a new perspective. The Introduction to One Planet, "Through the Eyes of Astronauts," begins with an observation from a Russian cosmonaut, Oleg Makarov. As he looked out the porthole of his space capsule, he had a camera in hand and he was hanging in the orbital module preparing to take a picture. As he trained the camera upon Earth, "it looked like a map." He explained, "when the porthole is pointing straight down on the ground, you can't see the horizon, and so you get the impression that you are watching a map glide by beneath you…unconsciously you look for the lines that are on such maps, but they are not there."
Yes, they are not there. From that vantage, it's clear that they do not exist – we create them, just as we create the global social order for the people, species, life, on that planet below, Earth. Through a Global Bill of Rights we can create a global social order much better than the one that presently exists. It's a fine line between the impossible and the inevitable.
Here is the perspective to help us bridge the impossible and the inevitable.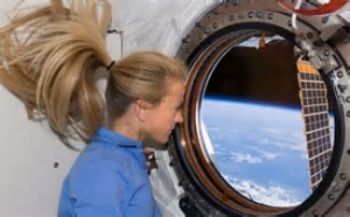 Her experience helps overcome myopia. Most astronauts return changed mentally. A Saudi cosmonaut put it brilliantly: "The first day or so we all pointed to our countries. The third or fourth day we were pointing to our continents. By the fifth day we were aware of only one Earth."
We can learn from this insight. So take that first step. See through the eyes of astronauts, and set your imagination free to think about rights for all on that beautiful planet below.