Here is a picture of Spy vs. Spy from the long running comic strip in Mad Magazine. It reflects nation vs. nation. Is this the best we can do? Our global community is now spending more than 2 trillion dollars a year on military spending if you add in all the support for the military such as when the U.S. puts nuclear weapons in the Department of Energy.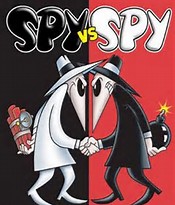 Unite is not saying that military is unneeded. It is needed. What Unite asks is how can we construct an international social order based on the rule of law instead of the rule of war so that we can reduce expenditures and shift them to better forms of security such as mutual well-being?
Existence is fragile when it's being lived at arm's length, particularly when there are nuclear weapons, and today billions of dollars are being spent by the United States, Russia and China for a new generation of nuclear weapons!
Let's remember the fourth freedom: Freedom from Fear. The idea, as Roosevelt explained it is that military will be reduced until no country is capable of destroying the other. Now we are doing the opposite. We are increasing capacity not just to destroy the other, but enough to destroy the entire planet. The nuclear winter following a nuclear exchange with weapons thousands of times more powerful than the bomb dropped on Hiroshima would ruin life on Earth: period.
Does the United States need nuclear weapons to protect itself from Canada? If not, why not? Isn't it because the two countries share similar values enshrined in "Bills of Rights?" Does it matter if our cultures are perfectly aligned as long as we agree to a document? The Europeans have shown with the European Convention on Human Rights, a Bill of Rights that applies in 47 countries, that it is possible to keep cultural uniqueness and still have shared values with respect to rights.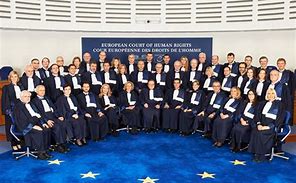 Spy versus Spy is old-school. It is for those with a narrow view of what we can do. Real politic is a myopic story,  and often personal wealth is behind this story too. Unite brings people, businesses and governments together to share a broader view, not so they can end disagreements, humans will always disagree, but so they can find a better way to diffuse and resolve disagreements through courts of law, and put some of those military expenditures to better use.