Unite's logo has three purple figures. They stand for Individuals, Nonprofits and For-Profits uniting to write the rules for those who govern through a Global Bill of Rights.

It may seem bold to write the rules for those who govern, but writing the rules from time to time for those who govern is exactly what Thomas Jefferson wrote in the Declaration of Independence should be done.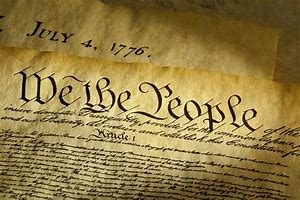 "Governments are instituted among Men, deriving their just powers from the consent of the governed, — That whenever any Form of Government becomes destructive of these ends, it is the Right of the People to alter or to abolish it, and to institute new Government, laying its foundation on such principles and organizing its powers in such form, as to them shall seem most likely to effect their Safety and Happiness."
Let me be clear, no part of Unite is suggesting that any government should be abolished. Unite is suggesting, however, that through the use of the Internet and other new technologies, the rules for those in power, originally set forth in the Universal Declaration of Human Rights, should be made enforceable in the courts of all countries through a Global Bill of Rights. 
The first step to writing these rules is to focus together in support of the idea of a Global Bill of Rights.  This is why Unite has its "Spark of Light" campaign. You can learn more about this by reading Unites booklet.
The spinning globe on the Unite homepage has three colors of sparks: White = Individuals, Green = Nonprofits and Blue = For-profit businesses. 
Their combination reflects what the author of Sapiens, Yuval Noah Harari has said is humanity's greatest power – the ability to cooperate in large numbers. We are at the remarkable point in time when all of humanity can cooperate and the logo for Unite captures this happening. 
Please become a spark of light for rights. And if you are part of a nonprofit, or for-profit, ask them to become sparks too.