What if a nuclear war occurred? What would you think in those few minutes when the missiles were flying and humanity, including your family, was about to be annihilated?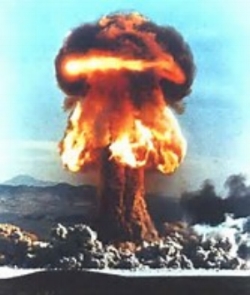 The first thing I would think of is my sons. Stephen and William. It would crush me. I'd apologize that my generation, the "baby boomers" were so weak and lethargic that their generation never had a chance. Then I would apologize to God for destroying this beautiful planet and the life on it, and then I would wonder how we could be so feckless that we failed to construct an international social order where this would not come to pass. This Armageddon would not be because of inevitability, but because of our failure to act.
        The likelihood of nuclear war will drastically diminish with the implementation of a Global Bill of Rights. There are a few reasons for this. One, those in power will be genuinely elected. Dictatorship will be done, relegated to the scrap heap where it belongs. Two, there will be integration and well-being beyond anything we have experienced on Earth before. There will be no walls. As these walls come down, and we live in mutual respect, if not love, for one another, there will be no need to think of each other as adversaries and live in fear of annihilation. We Martin Luther King said "We must learn to live together as brothers, or perish together as fools," he was talking about all of humanity, not just the deep south in America. Three, information and awareness of our activities across the planet from the free flow of information will make it difficult to amass support and participation in war. We won't go; and if we're smart we will make it difficult for just a few people to wage them. 
        Of course there is a genuine possibility that we can have a nuclear Armageddon, just as there is a genuine possibility of the development of a global police state. These possibilities, however, call for action, not lament. The United States and Russia are about to embark on building a new round of nuclear weapons development. They will spend trillions of dollars and take up many of the best minds on the planet. Why? Because we have failed to unite to stop them and provide for a better form of security.
        So take a few minutes to unite with others through the work of Unite for Rights. Let's pick a different future than the path we are blandly following. Human security is something we must create, it's not something that government officials will give us. It's the agreement that we give those who govern that will give us the security we desire.